Lost and Found
Best Preventative Measure Is To Microchip Your Pet
SUBMITTING A LOST REPORT IS NOT A SUBSTITUTE FOR VISITING THE SHELTER IN PERSON TO LOOK FOR YOUR ANIMAL.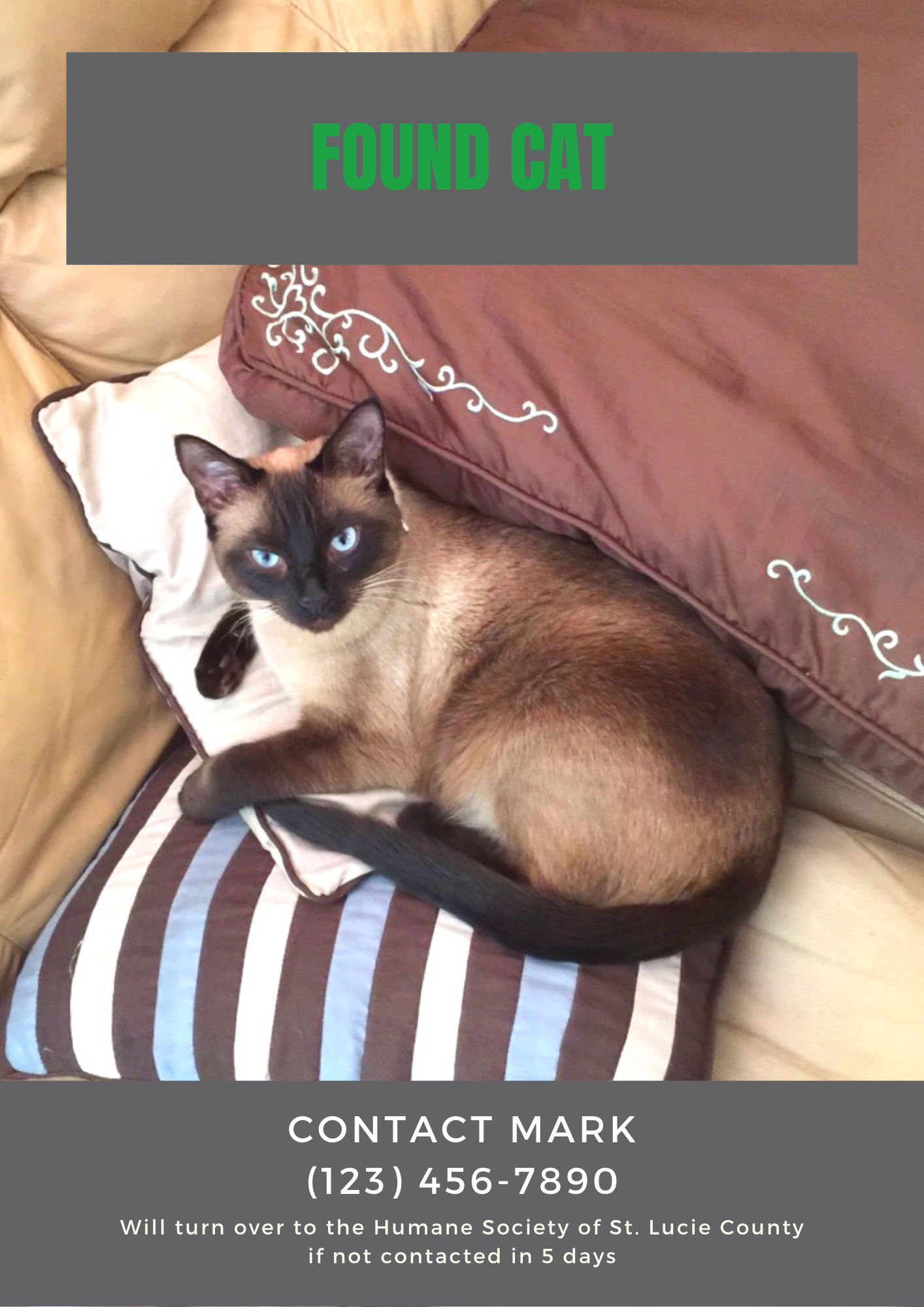 While we do our best to help in your search, you, as the owner, are ultimately responsible to look for and identify your pet. Please remember the best insurance against losing a lost pet that has strayed is a microchip.
Found a Pet?
If you are unable to search for or locate the owner, please call your city's Animal Control. Not sure which jurisdiction you are? Click here to find out. 
Port St. Lucie Animal Control: (772) 871-5042
St. Lucie County Animal Control: (772) 465-5770

Lost Your Pet?
If you have lost your pet, please contact your local Animal Control Division. Not sure which jurisdiction you are? Click here to find out. If they do not have the animal in their possession, visit the Humane Society of St. Lucie County's shelter at 8890 NW Glades Cut-Off Road. Bring with you a photo of your pet. You will be asked to complete a "Lost Pet" form at each shelter and you will then be escorted through the areas where the animals are located.

The Humane Society of St. Lucie County keeps animals that arrive as strays for five business days in order to allow the owner adequate time to claim it. Please note stray animals' photographs will not appear on the shelter's website during this period, so it is best if you visit the shelter in person to look for your pet. After the five days have expired, the animal will be evaluated for the adoption center.
Tips to Assist You in Searching For Your Lost Pet
If you have lost an animal, your best bet in finding them is to bring a photo of the pet and the pet's most recent veterinary records to the Humane Society of St. Lucie County's shelter, 8890 NW Glades Cut-Off Road, and to fill out a lost animal report. The HSSLC receives thousands of lost animals every year. Submitting a complete lost report will help us to quickly identify some animals.
Submitting a lost report is not a substitute for visiting the shelter to look for your animal. Therefore, you should continue to visit the shelters regularly to look for the pet (we recommend at least every other day).
Dogs
Be aware that your dog could be almost anywhere. Dogs that are exploring can travel many miles in a single day. Do not limit your search to your neighborhood only.
Cats
If you have lost your cat, search the area at dusk and/or dawn. Be cautious around cars and garbage cans. Inform your neighbors and ask them not to feed your cat.
Below are a few popular websites to see lost animals in our local area:
Visit the Humane Society as soon as possible and contact area Animal Control Divisions.
Make fliers that include the lost date, description and any unique markings, a picture, and your phone number—a reward motivates people!
Make familiar sounds to attract your pet and walk around your neighborhood in the morning and evening calling your pet's name.
Put fliers up around your neighborhood, shops, vet clinics and anywhere else, including your old neighborhood if you've recently moved.
Place the kitty litter outside—while it may sound strange, this helps nervous or shy cats who may have bolted return to a site that "smells" familiar.
Place a lost ad in the paper and check the found section.
Check with the neighbors, mail carrier, newspaper and other delivery people, local vet clinics, etc.
Help our staff at the Humane Society find your pet—visit the shelter every other day to check for new arrivals. Ask for help and don't forget to file a lost report!
Helpful Hints
Update tags regularly
License and microchip your companion animal—even indoor cats. A microchip is your best insurance against a lost pet. Make sure you keep your microchip records updated if you move and/or change your phone number.
Stray animals are held five business days, not including the day of entry, Sundays or holidays. Don't wait—come and check as soon as possible!